An interactive timeline version of this analysis is available here.(only works on PC)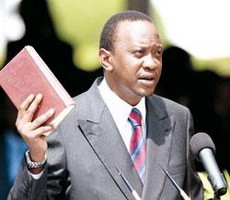 Political language is a tool, a tool used by politicians to serve their interests through certain lexical choice and structure. Smart politicians use it to win the support of people, gain political advantage, and of course, win elections.  The not so smart ones, well, they get what's coming to them. No opportunity presents itself better for a politician to use this tool than when he is given a chance to go on a podium and read a speech. Political scientists and writers often take it upon themselves to write about these pieces often by illuminating certain quotes and commenting on them but this method can only give us a small picture of what is really said. What if we could look at it collectively? What if we could take a telescopic view of a personality's speeches and go beyond just catching a few quotes to illuminate all their actions interests and commitments?
The New government has embraced the spirit of transparency by posting all of the president's speeches, statements and communiques online for anyone to read.  That archive at the time of us downloading from it had a total of 96 speeches given by the president, almost double the amount given by Previous President Mwai Kibaki in his first year in charge.  Where there was an archive, we at Odipo Dev saw a database so what would happen if we mined this diverse lexical construct? What would we find?
Legend-The nodes (circles) on the graphs with a white background increase in size in influence using a measure known as betweeness while the black and red graphs display the word with the highest frequency and how it is used within the whole spectrum of speeches 
April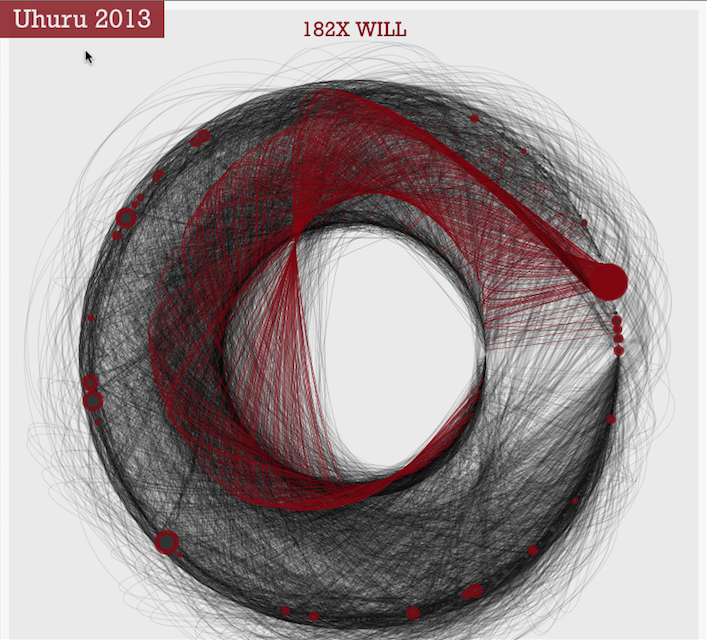 "I will lead all Kenyans those who voted for me and those who voted for our competitors" proclaimed Uhuru Kenyatta taking oath of office, clutching the same bible that his late father (Jomo Kenyatta) once held. This marked the first of many speeches that he would give throughout the year.
Now, a president fresh in office is keen on maintaining trust with his electorate and building as much of it with the opposition so as to maximize national support for his policies.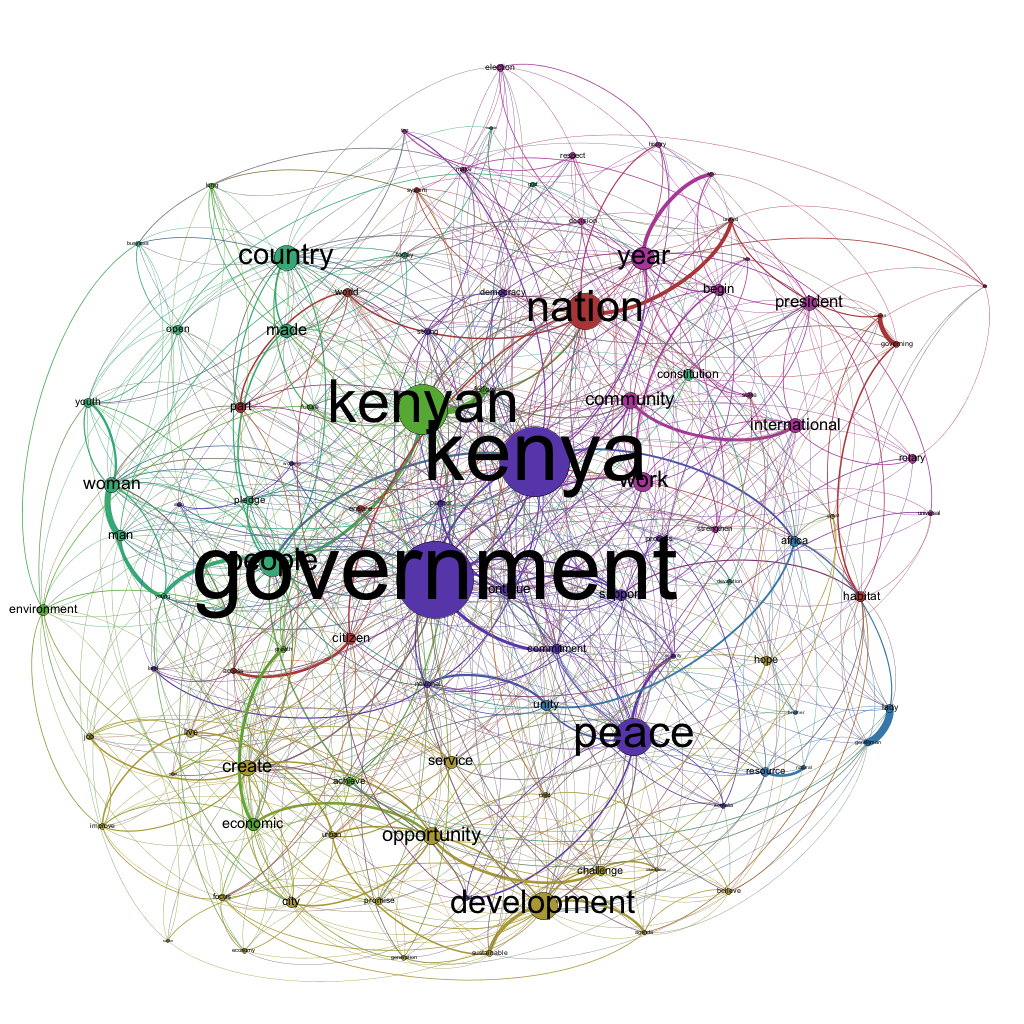 Uhuru's heavy use of the word "government" and the intertwining of the word "will" in majority of his speeches show a bid to convey confidence in his government's intent to deliver on their manifesto. "Create", "Opportunity", "Development", "Service"; all key aspects of his manifesto are notable in his debut month speeches, giving an us an idea of forthcoming policies.
May
One month into the commander in chief's leadership and events begun to take a familiar shape, with the swearing in of the cabinet and his diplomatic missions abroad.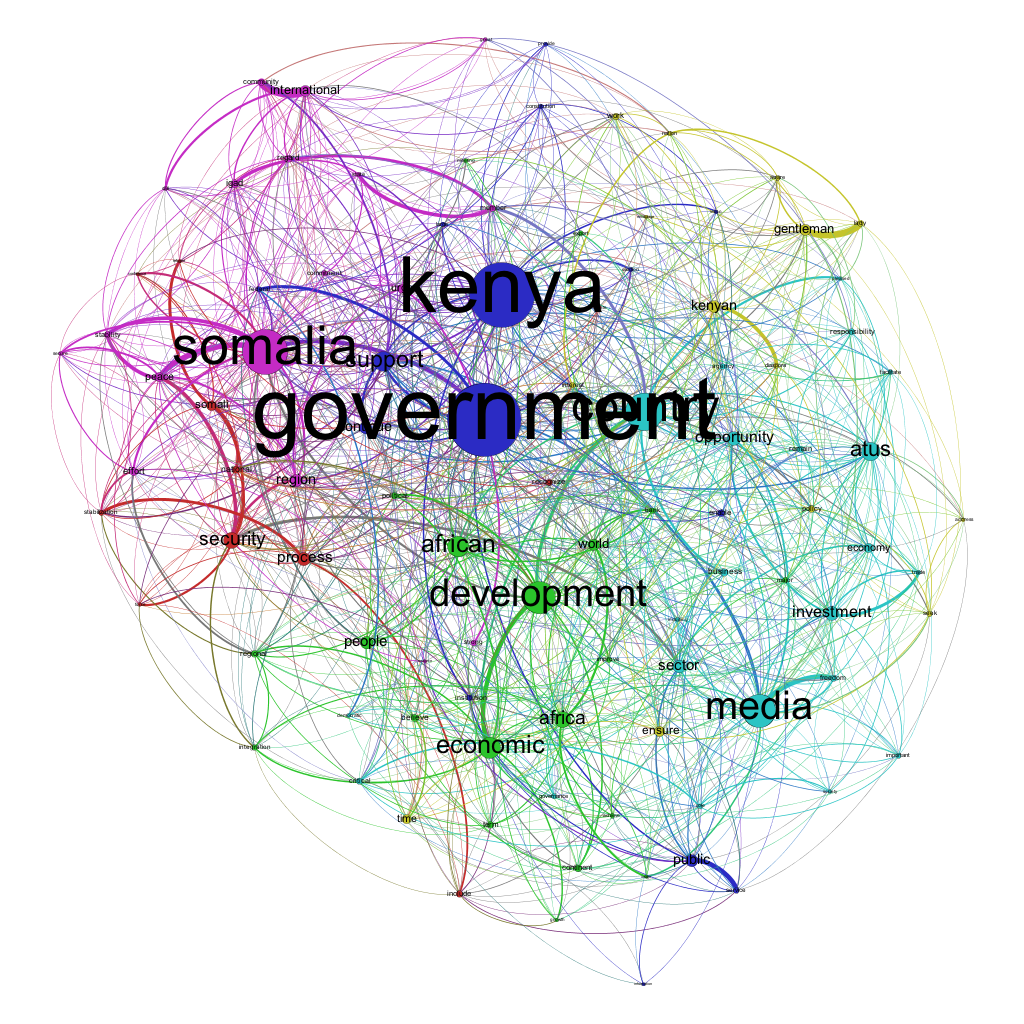 Heavy influences of the word "media" in relation to "government" come about as a result of attempts to implement bills related to media freedom. "We are all aware of the unacceptable global post-card image of Africa as captured and circulated by major media outlets" says the president, an early indication of the role he intends for the media to play in his administration.
Uhuru's travels abroad reveal how important Somalia is to Kenya's foreign policy early on with Uhuru discussing peace and security in the region. The word "government" also results from the heavy mention of his support for the Federal Government of Somalia. A policy which may have repercussions in the oncoming days of his administration.
June
In what seems to be a bid to assert himself after various travels abroad, the president attends and speaks at diverse gatherings around the country . "We must do all we can to ensure corruption is not devolved and thereby multiplied 47 times over." he says during the swearing in of Principle Secretaries.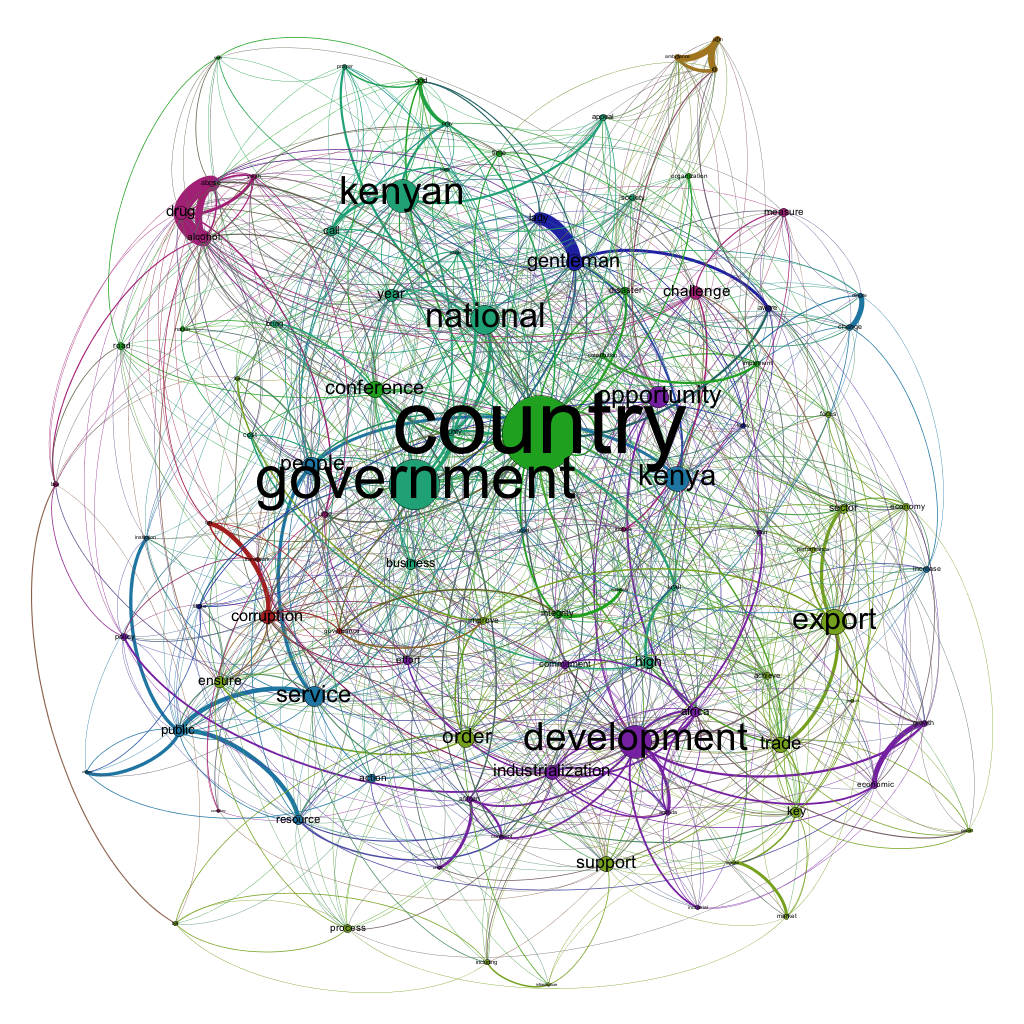 For the first time on our graphs a distinct enemy rears its ugly head: corruption. The strong sentiment behind this serves to show his no- nonsense stand against perpetrators of the crime. Given that Kenya has been plagued by corruption under previous regimes, this is seen as an expression of confidence in his government's ability to eradicate the menace. They say that this is the government of "kusema na kutenda" whether his government's actions would match his words in coming days remains to be seen, you be the judge.
July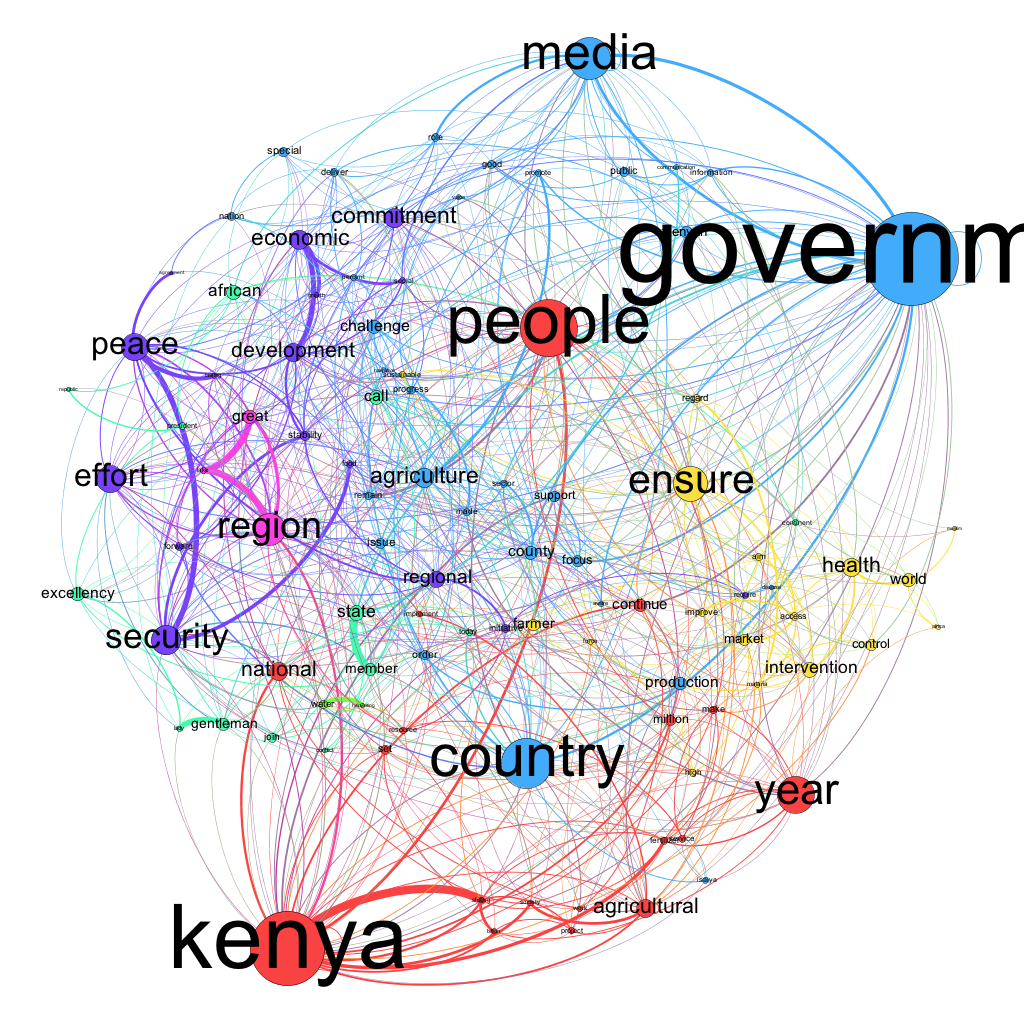 Continuing his efforts to build trust with as many parties as possible, the president addresses key media influencers and heads of state in the great lakes region . It is a long-known fact that government owned media houses mostly are more likely to push the government agenda while; privately owned ones will are likely to push the agenda of their owners.  Uhuru is probably aware of their power to sway public opinion against his government and would rather have them as allies.
To put them at ease, he constantly refers to the media as partners in leadership and reminds them of their responsibility to the country."We're not interested in government control and propaganda, that would be disservice to the role of the media in nation building. What we want is openness and transparency that offers benefits to Kenyans."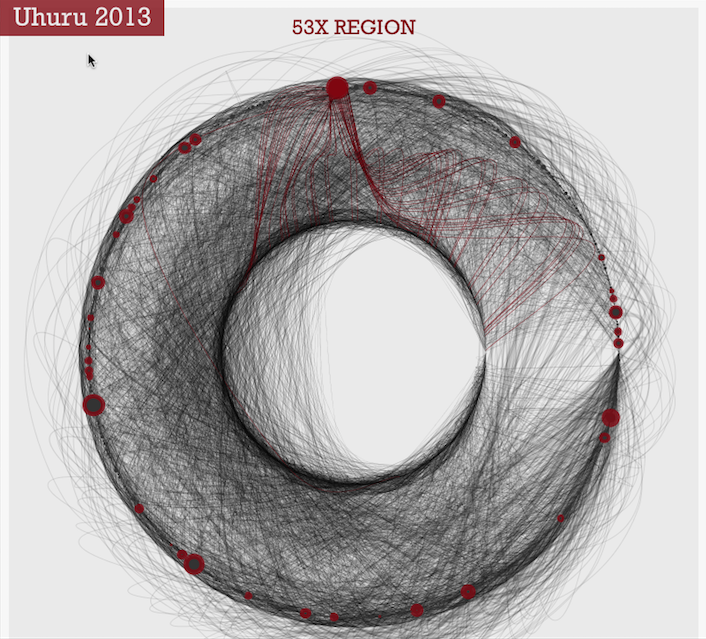 Uhuru's address at the ICGLR, tried to enhance collaboration with the heads of state in attendance, highlighting common issues that affected all of them, such as security, peace and economic development. "We call on the region to speak with one voice in addressing this threat to guarantee peace and security" he said, on Somalia
August
Wondering how come you haven't seen much of the ICC in this study, ? It is possible that the president preferred to downplay the matter and focus on nation building and unification efforts, as the ICC is considered to be a divisive matter. Nonetheless, the influence that the ICC cases have had on the country is still evident. As expected, the cases had begun shaping the country's engagement with the world, visible through the events occurring in the month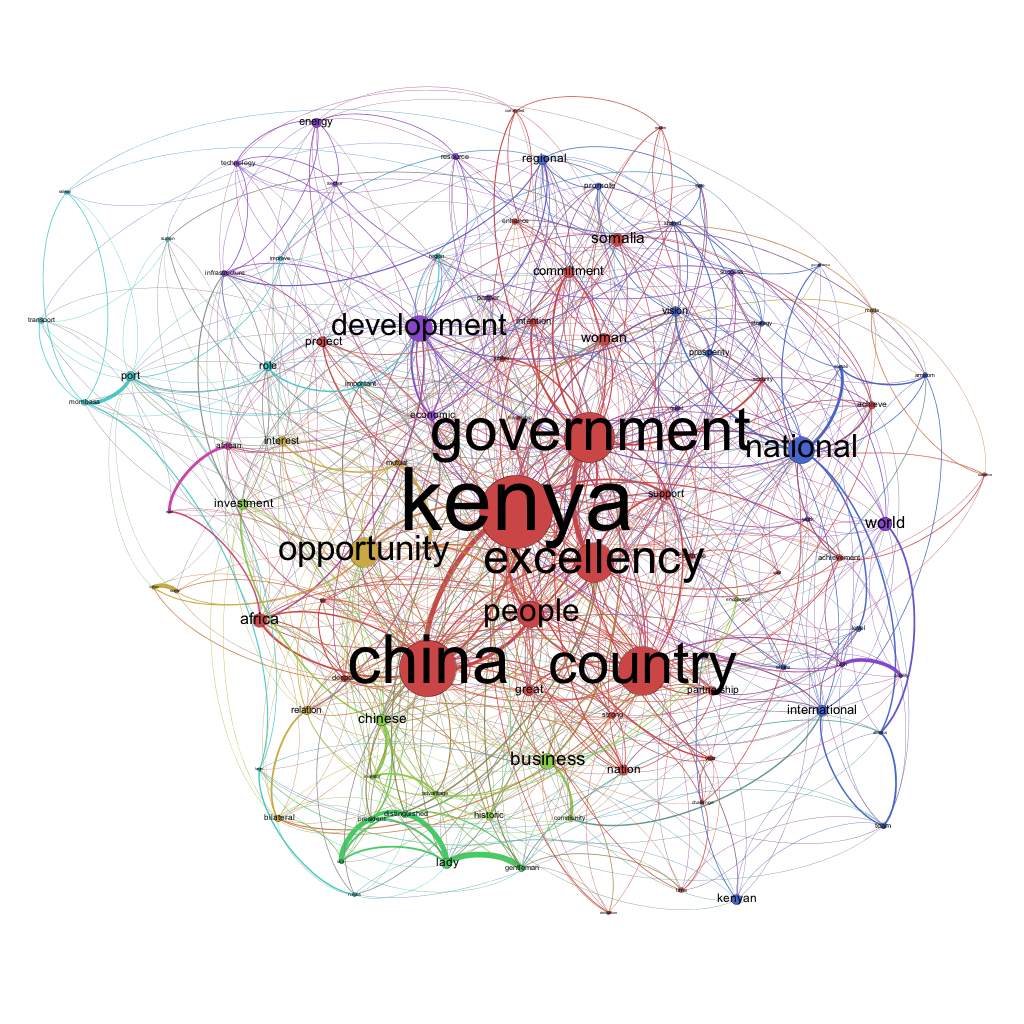 A policy shift towards  the East has largely been touted by experts, and in some people's eyes, it was only a matter of time before, China (as seen above), shining though the President's vocabulary in a strongly influential context. Where there is China, the words "opportunity" and "development" are present, indicating that there is more to come in terms of collaboration with the east.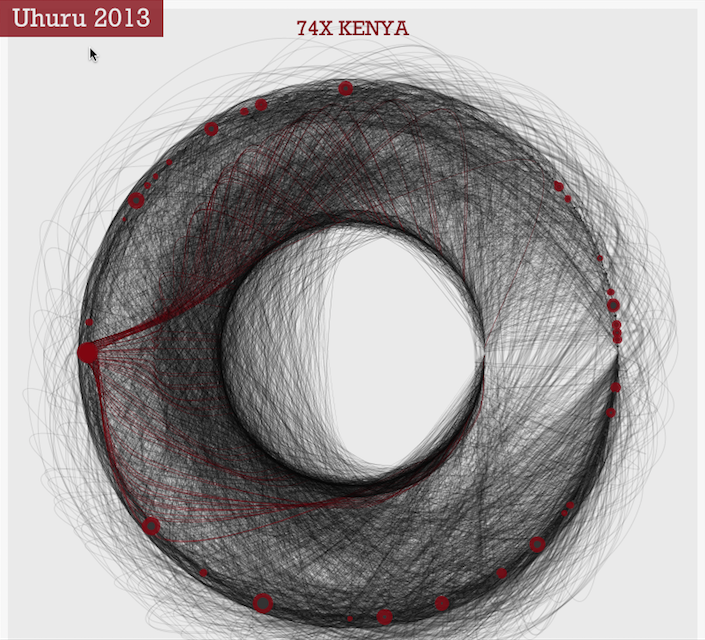 My government will work to strengthen the bilateral ties between China and Kenya for the mutual benefit of our people.
Need we mention a visit to Russia also in the same month?
September
For obvious reasons, a tale of two halves emerges in September. Still raw from the worst act of terrorism on Kenyan soil in 15 years Kenyans had rarely looked more united than when the president addressed them during the Westgate siege. "We are as brave as the lions on our coat of arms" he said during one of his speeches.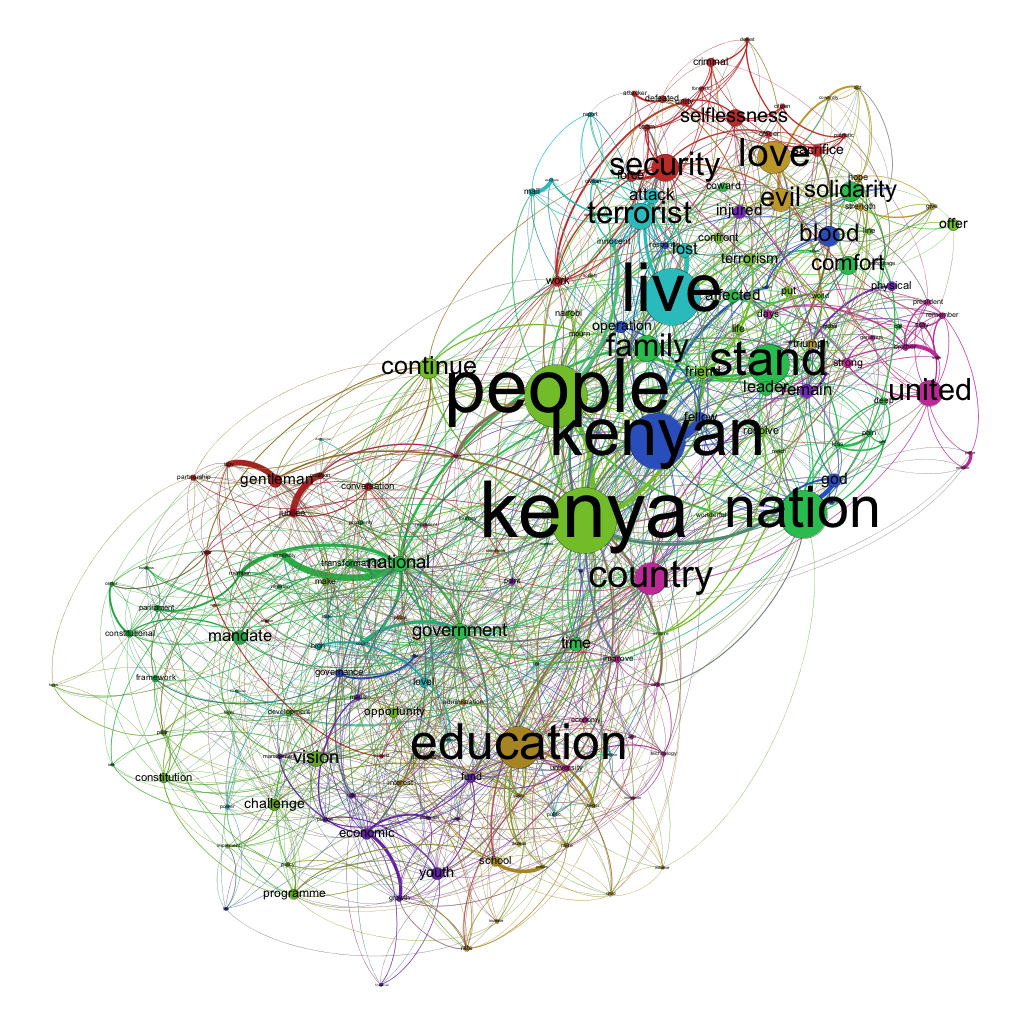 For the first time backlashes of his government's foreign policy on Somalia were seen and his soaring rhetoric was backed by the heavy use of nationalistic words; "solidarity" "Kenyan" "nation" "country" "people" serving his bid to cast himself as a unifier of the country in this time of grief.
Aside from the terrorist attacks on the country, September was pretty much a diverse month, with the President consolidating his stand on education. Heavy influence of words such as "quality" show that his intentions with regard to his policy on education are nothing outside the norm. Which leader doesn't want a quality education for his people?
October
A president will use the word government to try and create a form of separation between the individual and the institution. It is important for him to emphasize and re-emphasize this as he tries to create a mind shift in Kenyans' perception of the government."My government wants the youth to be in the center of prosperity", he says.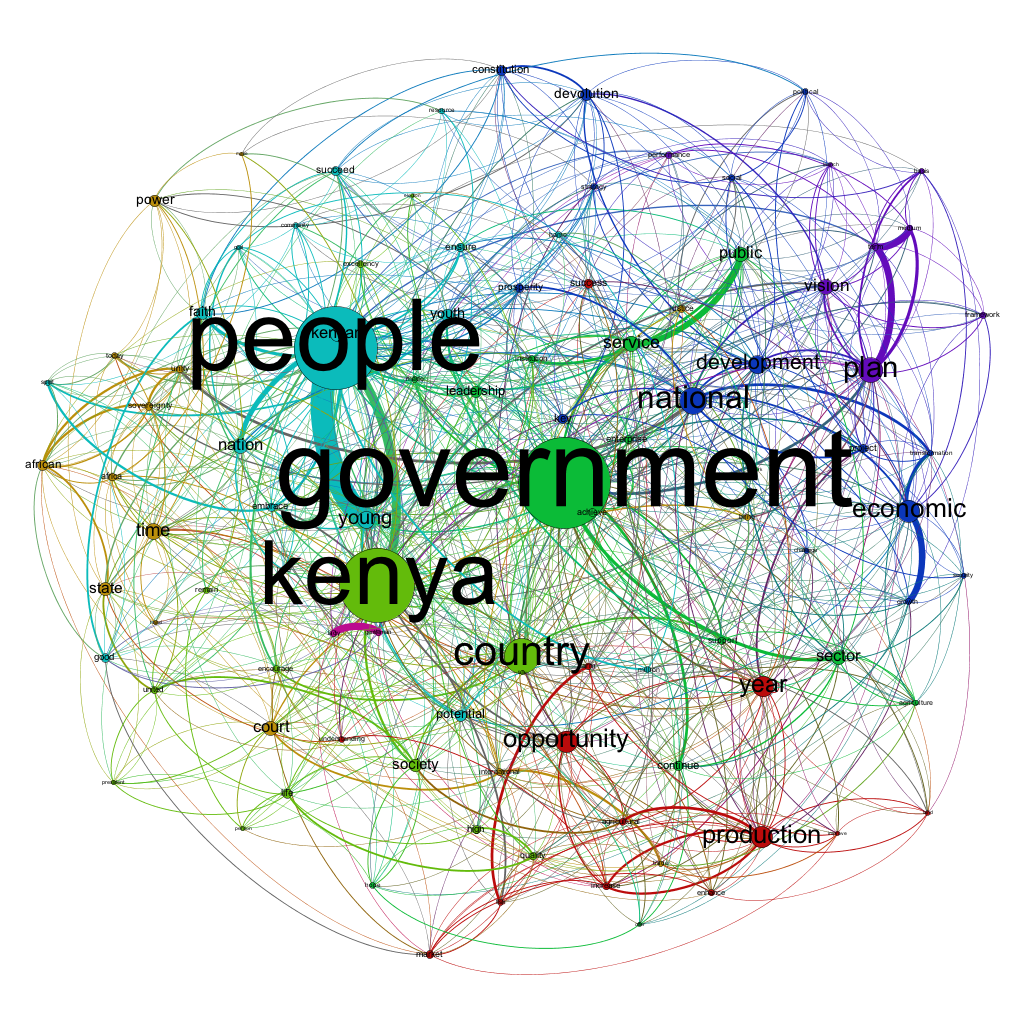 Majority of his speeches follow the same positive sentiment, driving towards bolstering confidence in the government's efforts, and engineering a sense of faith in citizens to try and quell any doubts of his leadership cast on him after the Westgate fiasco. Uhuru continues to try and unite a country visibly shaken in recent times so it is no surprise that "Kenyan" and "people" gather strong influence.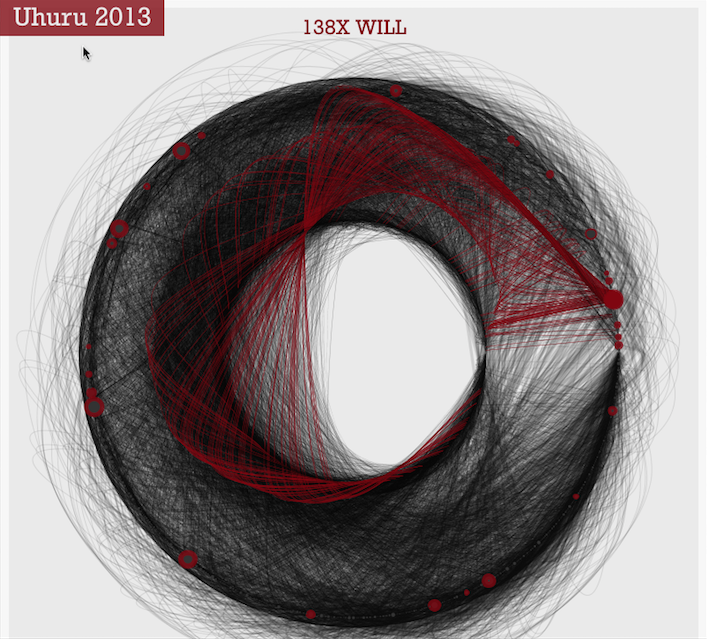 Moreover, the presence of the word "will" conveys the aims of his administration, a trend that perhaps has cemented itself in his rhetoric.
November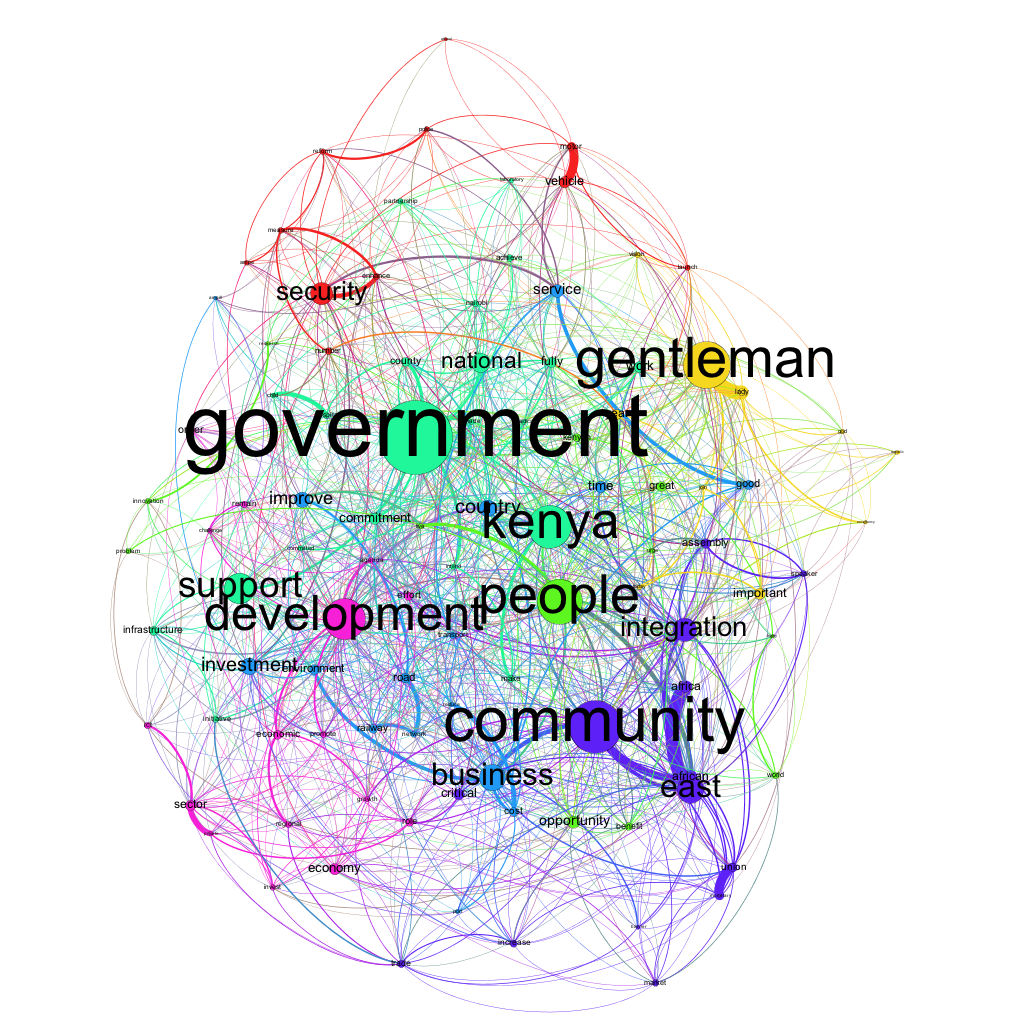 Uhuru Kenyatta is the current chairman of the EAC, and as such, this month saw him attend a number of events to do with the region. Government is used strongly in relation to "community", "development"," support", "integration", and "people", an indicator towards the role his government intends to play in coming years in the EAC.
December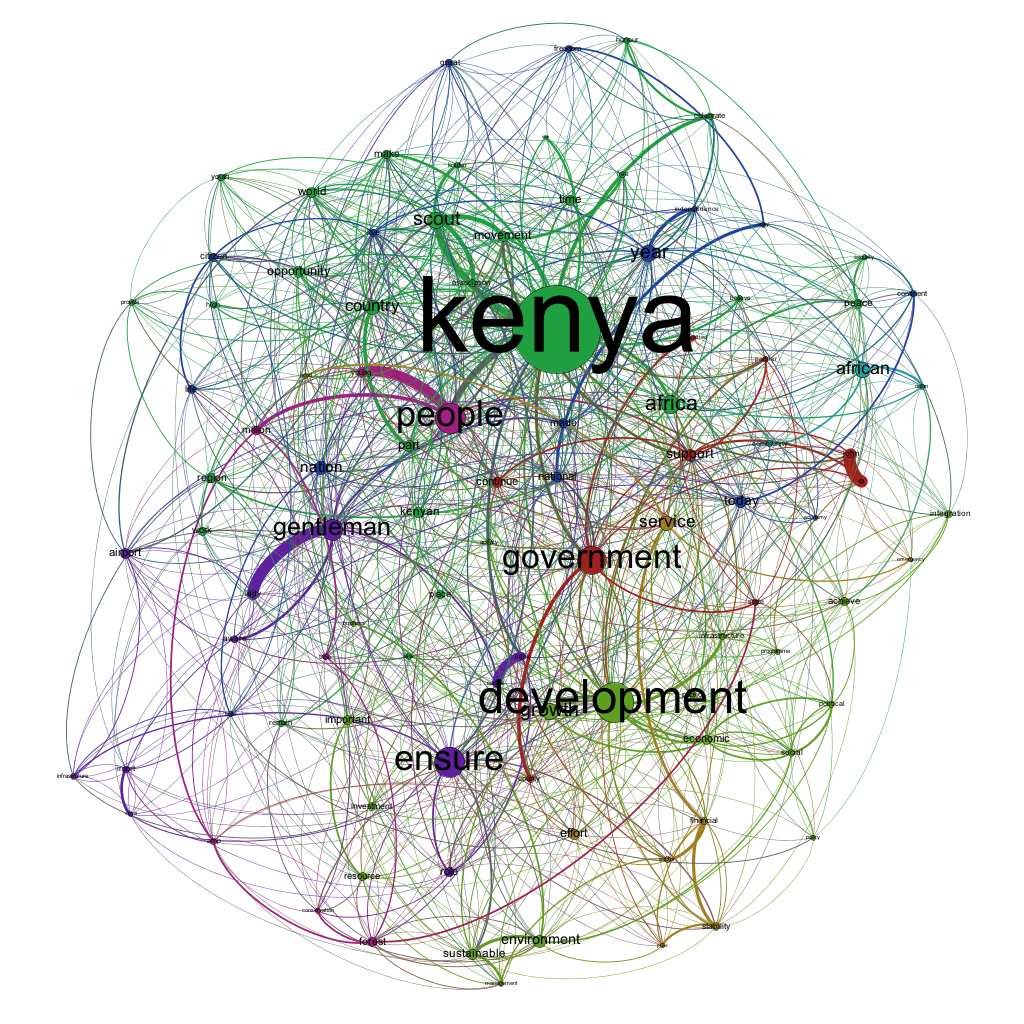 A special month for the president: His Jubilee government leading Kenyans in celebrating the country's Jubilee year. Many would say that this could easily be the hallmark of his first months in charge. Events this time demand a trend that we have seen through various months of the year, there is no better time for him to cement his unification agenda on the country and he strikes while the iron is hot. Nationalistic rhetoric becomes the order of the month, and the word "Kenya", takes center stage.
Final Words
Hopefully if you are still reading this by now you'll have realized that a lot more could have been said about the graphs you've just seen, a lot more analysis could be done, a lot more definite questions can be asked! We are just beginning to scratch the surface of what insights such analysis can bring to the table and how it can make us see the world with a completely different perspective, with a completely new set of eyes. When applied to open data, such as these speeches, the accountability of our public officials is taken to a whole new level.
Is there anything you noticed in the graphs that we might have missed? Got any nagging questions of our methodologies? Go ahead! Question everything! We invite you to ask questions or leave your opinions in the comments.
Or you could make it personal and contact us!
Here's the speech archive for those of you who are curious